A POWERFUL WAY TO WORK WITH IDEAS
Capture thoughts and ideas as building blocks

Connect the blocks to build different ideas

Compile your great ideas to produce...

articles

books

courses

documentation

evidence of learning
and so much more...
Speare is a flexible tool for ideation and innovation that you can use throughout your life. When you use Speare, you quickly pick up the skill set of the thought developer. More about these skills below...

Speare just makes things click. It's a powerful and flexible tool for organizing thoughts, notes, and research into content for essays, whitepapers, scripts, speeches, patents, and many other kinds of ideas and documents.
Professionals use Speare to help them be more proficient as—knowledge workers, design thinkers, technical writers, patent lawyers, problem-solvers, business planners, communicators, entrepreneurs, authors and many others...
Take a quick peek at this video to see how Speare works...
https://www.youtube.com/watch?v=DZhLL1D_Yjg

video length 1 min 16 secs
Write the way your brain wants to write
Sign up with Speare
today. When you begin to use Speare, you'll find that Speare boosts your:
power to think critically

power to organize thoughts

power to write clearly

power to analyze information

power to self-learn

power to solve problems
Its common knowledge that most people hate writing. Speare allows people's minds to engage with information in a whole new way. Simply put, it's a work space where thinking and writing happen more naturally.

Speare is your virtual Design Thinking studio
Imagine having the capability of posting thoughts and ideas on boards and organizing them within and across movable boards and being able to "stitch" the boards together to create documents.
Work with your blocks on side-by-side boards. Thoughts and ideas go into building blocks that you can move, connect, duplicate, and search. Trying to write things in the right order from the "get go" totally disrupts the thinking process. Speare makes it easy to organize thoughts after you've gotten them written down in the order they came to you.

Speare is your personal Thought Library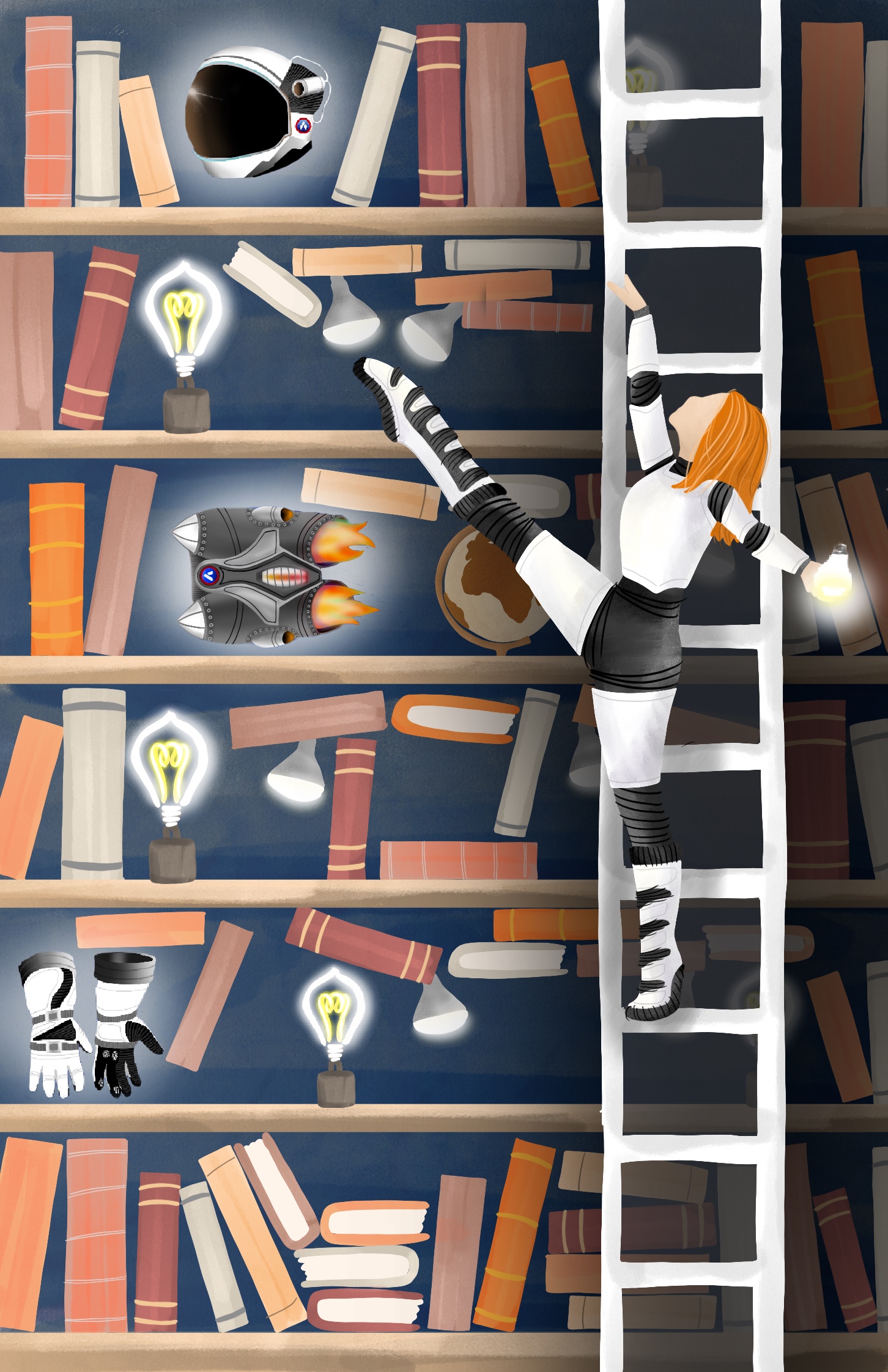 Speare is like having your own personal library for all your knowledge, thoughts and ideas. They're searchable, and connectable. Anytime you need them, you know where they are. You can also send notes to your Thought Library from any device with texting capabilities such as a smartwatch.
If you take lecture notes or jot down your thoughts and ideas from reading assignments everyday, these things become part of your searchable thought library. When you need to write a paper, you'll have access to all these notes and be able to pull them together to create a draft that you can work with within minutes.
There are many ways to use Speare for learning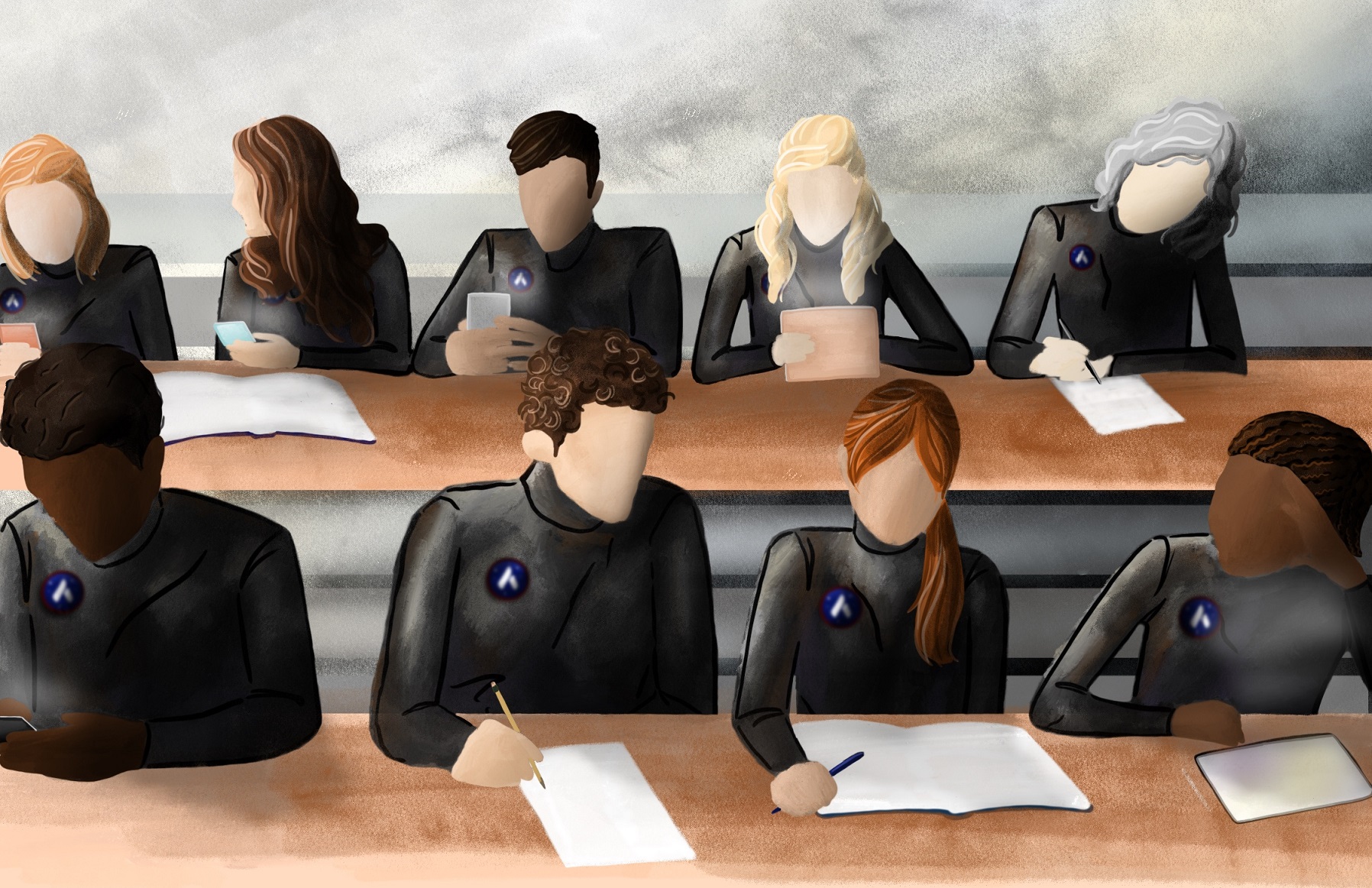 Everyone loves texting, right? Capture information anytime, anywhere by texting notes to Speare from your smartwatch or smartphone.
Speare is super flexible when it comes to capturing thoughts, ideas, and notes. You can type them, text them, or speak them. Use whatever method is most natural for you.
Some Speare users like to take notes on paper when listening to a lecture or when reading a book. That works, too! All you need to do to get these hand-written notes into Speare is to use speech-to-text and read your notes into Speare. You can even take a picture of your hand-written notes and upload the picture to your Speare account. Doing this helps you thwart the forgetting curve.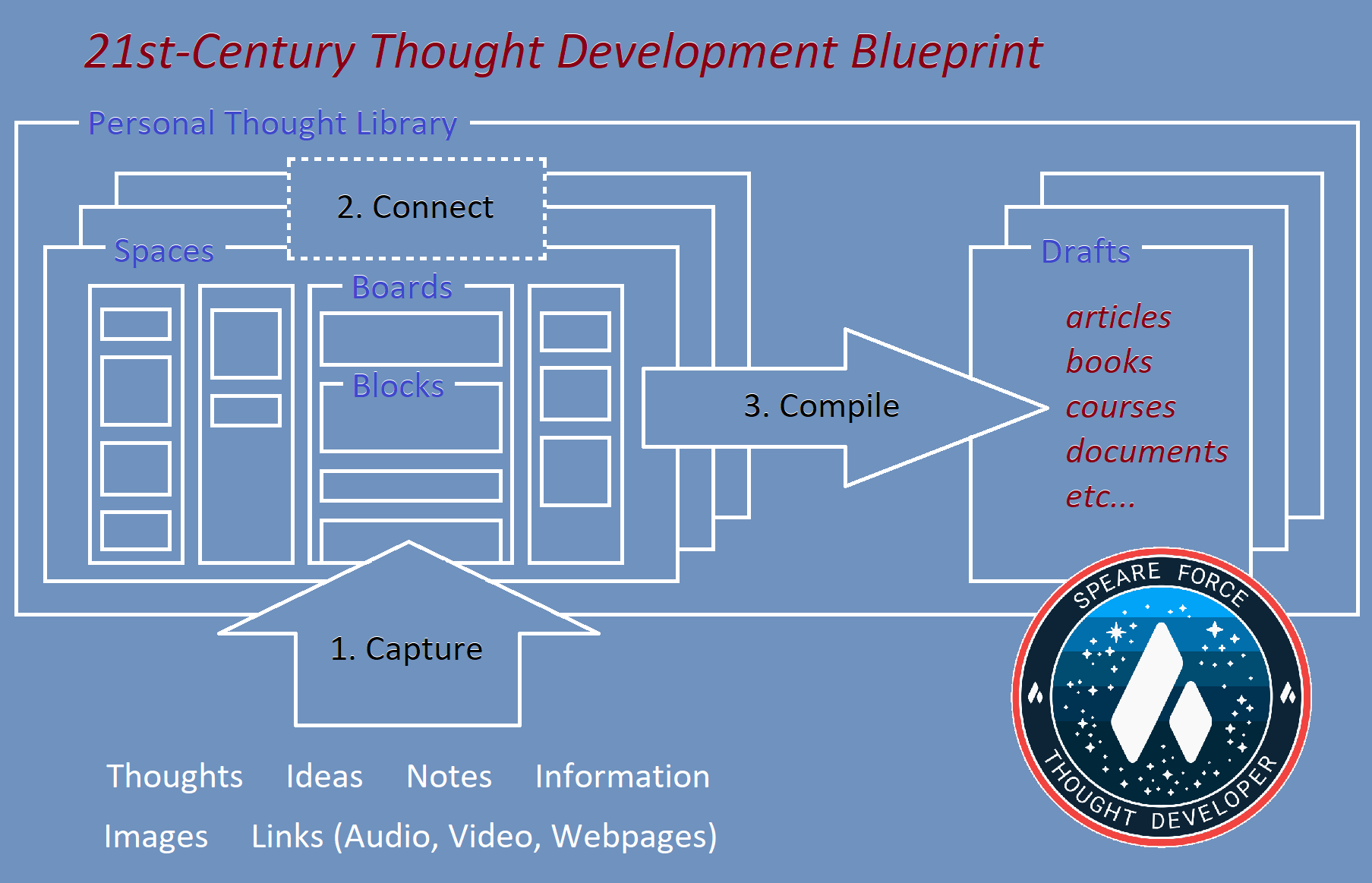 Speare blueprint—from ideation to innovation
Explore

capturing

everything that interests you

It could be thoughts about a problem you want to solve, ideas for a book you want to write or a course you want to teach. Maybe you need to prepare a speech or you need to document something. Maybe you simply want to take notes. Capturing or converting content into building blocks in Speare is generally the first step in making your ideas become tangible—come alive. Don't worry if these thoughts come randomly. The important thing is to record them.

Experience

connecting

ideas in a new way

In step 1, generally thoughts and ideas come to us randomly. That means we need to be able to organize them. This is where movable building blocks and boards come in. Each board should be treated as an individual idea. Side-by-side boards in a Space can be stitched together to create a larger idea.

Enjoy

compiling

your new ideas into something great

Board links can be added to a "project board" and organized in the order you want them to be stitched together. This feature allows you to compile large writing projects such as books and courses.
Repeat steps 1 - 3 (adding more blocks and refining them, as necessary)
Now that you have an idea of what Speare is like, all you need to do is signup at Speare.com today. Once you've done that you can start learning how to use Speare with 6 short tutorial videos.

Developing Skills for College and Career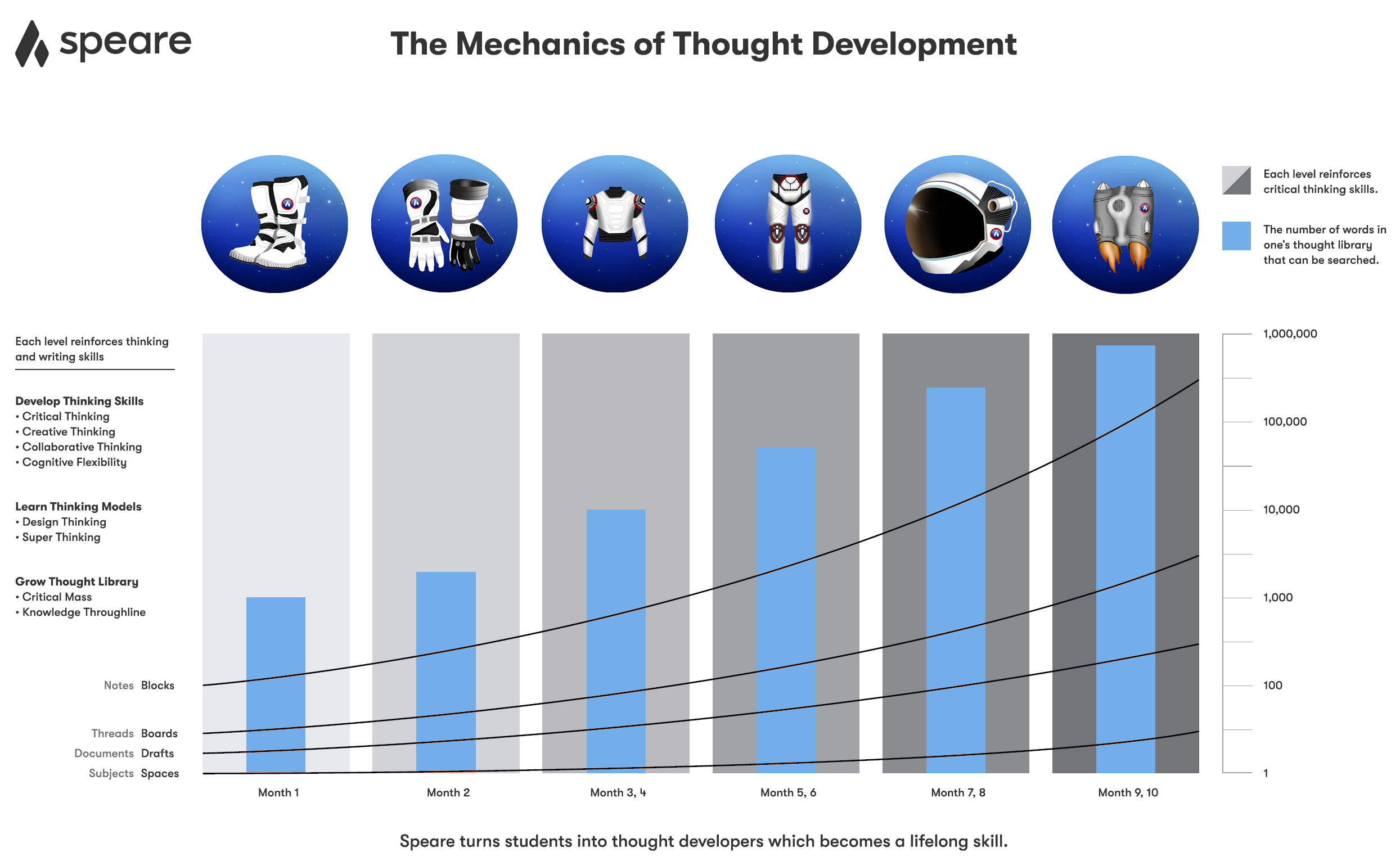 The more you use Speare, the more you're ready for college and career. Here's a graph that shows that as your thought library grows, the skills you need to succeed improve. These skills are problem-solving, critical thinking, self-learning, thwarting the forgetting curve, developing initiative, communicating clearly and much more...
You can quickly get up to speed wielding Speare like a pro with our tutorial videos.

Speare Tutorial Videos
Get up to speed quickly wielding Speare like a pro with these videos, it'll be like earning the Speareonaut gear you need to explore the universe and beyond.
Once you complete the Speare tutorial videos and begin using Speare everyday to collect and organize your thoughts and ideas, you'll be well on your way to developing the skills you need for college and your career. You can tackle scary big writing projects with confidence. You'll have earned the Speare Force badge as a Thought Developer.

Speare gives you the ability to do Distance Learning
https://www.youtube.com/watch?v=xD_Kc_oMTqc
Speare let's teachers and students send and complete assignments using a built-in feature called, "Speare Messaging". You can see more information about how to get this started by referring to the Project Collaboration document on our support page.

Exploration and Innovation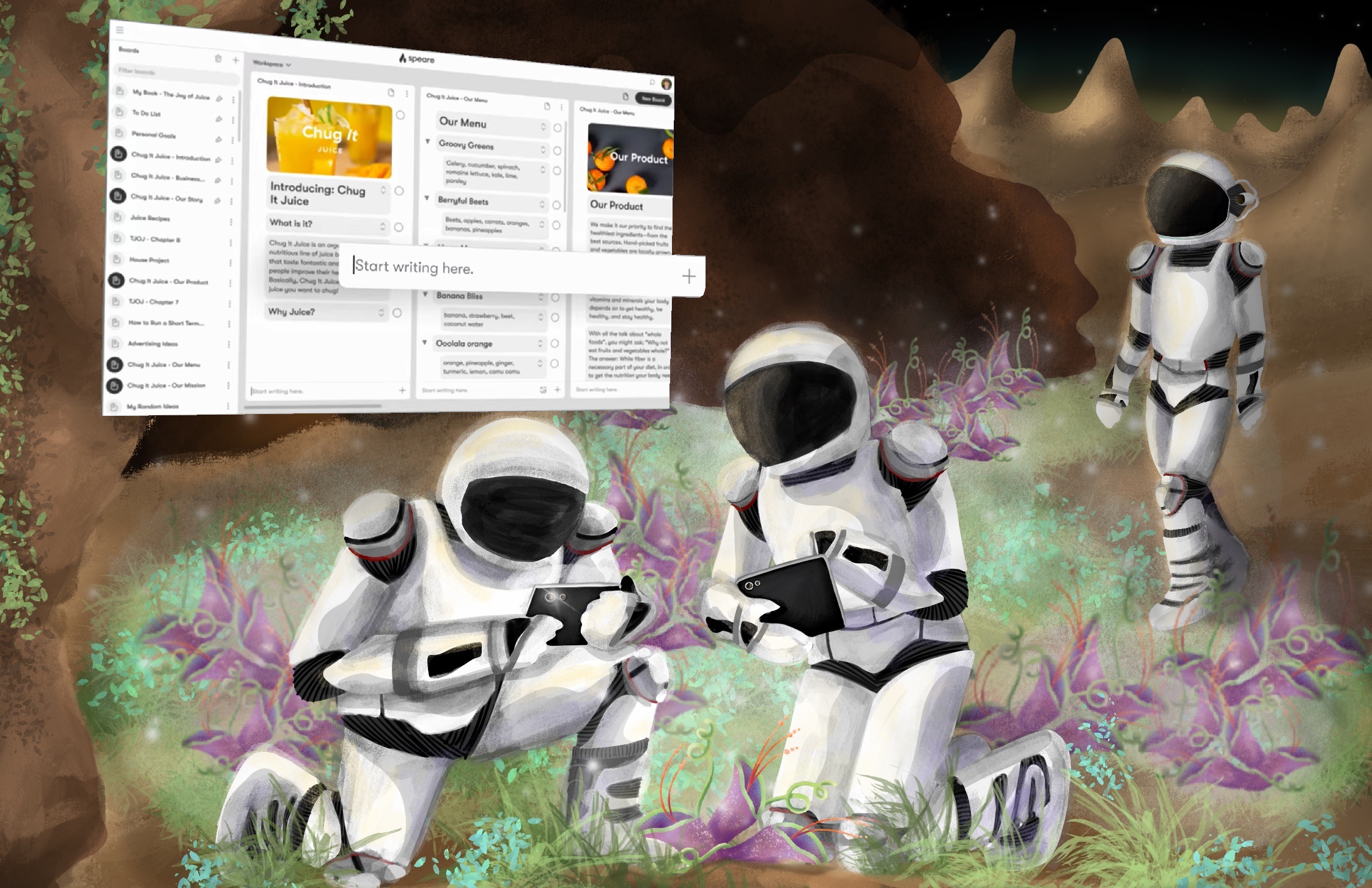 Now that you've watched the tutorial videos, you have the "gear" you need to organize thoughts and ideas, turn them into documents, and share them with others. Speare goes with you wherever you go. It's your personal thought library for exploration and innovation...

Speare drag and drop interface (using an image as an example)
https://www.youtube.com/watch?v=c6sMJUcsAqw
Speare excels at helping you organize your ideas so that you can see the big picture in different ways. Check out this video that uses an image of a Speareonaut broken up in individual building blocks to demonstrate how moving building blocks helps you see the big picture when you're developing a new idea.

Speare is a web app
Here is a list of devices that Speare works with via a Google Chrome or Safari browser...
iMac—Chrome or Safari

Windows PC—Chrome

Chromebooks—Chrome

iPad—Chrome or Safari

Android Tablets—Chrome

iPhone—Chrome or Safari

Android Smartphones—Chrome

iWatch—Text messaging only

Android Smartwatches—Text messaging only

Now is the time to START...
Now is the time to start developing the skills you need to succeed. Speare Pro is a tool that you can use for the rest of your life—when you're in learning mode, working, or exploring new ideas and creating new ones. Speare will help you become a thought developer and innovator.

Feel free to contact us if you get stuck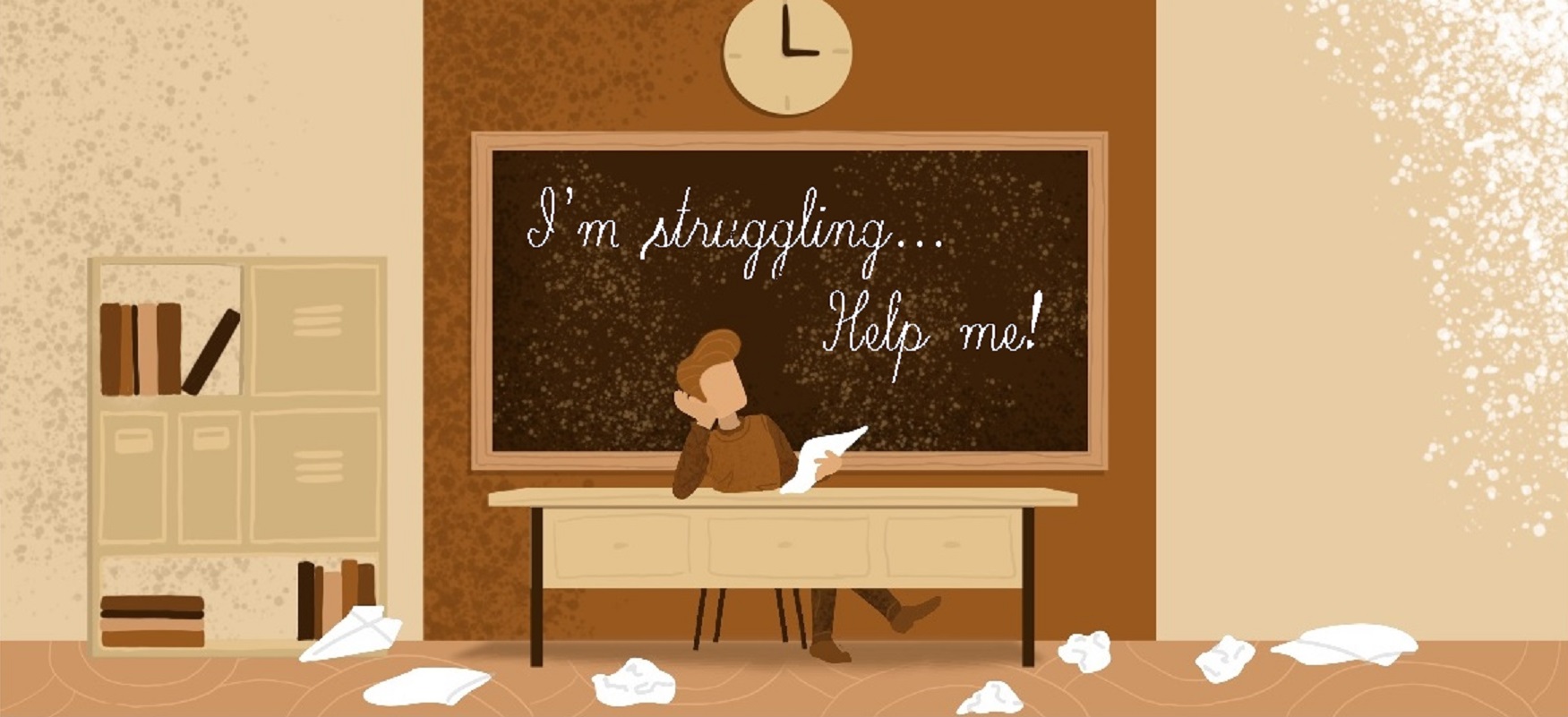 Checkout our Support/FAQs and feel free to contact us anytime at support@speare.com.
Enjoy!

P.S. Speare is short for Shakespeare, because it makes short work of thinking and writing.